DESIGN-5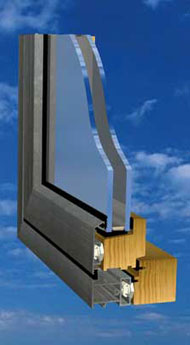 A new range of aluminium extrusions that ingeniously combine to a selection of timber profiles to form an extensive suite of open-out window styles.
Fashioned in the UK Deign 5 is a new high quality composite aluminium timber window system focused on the building needs of tomorrow. Design 5 has been extensively tested and to ensure prompt supply it is available from AM Profiles and a network of registered fabricators.
The Design-5 concept....
Traditional beauty and workmanship of natural timber on the inside with the strength, resilience and colour possibilities of aluminium on the outside. The Design-5 aluminium extrusions are available to joinery manufacturers as fabricated "squares" or as powder coated or anodised sections. A PDF of the main sections is available below. To assist architects, specifiers and contractors; Design-5 is available through a network of registered dealers. Please contact AM Profiles direct or go to Design-5 fabricators.
Design 5 offers a selection of outward opening styles within the same frame. The most popular being:
Projecting Side Hung
Side Swing Reversible
Projecting Top Hung
Top Swing Reversible
Fixed Lights - internal or external bead
Top or side hung, mounted on butt hinges is also available. The Design-5 composite window system has been designed to use the Peder Nielson PN Combi 500.
Product Features:
excellent overall window U value of 1.5 (1.0 optional)
multi-point locking systems
uniform sightlines with any opening type
competatively priced with short lead times
full range of BS and RAL colours with various timber treatments
accommodates sealed double or triple glazed units up to 28 mm wide
tested to PAS 7950:1997 Enhanced Security Performance
Downloadable thermal simulations, literature & data sheets:
Double Glazing - Design-5 UNI - Energy Rating
Triple Glazing - Design-5 UNI - Energy Rating
Design-5 Tilt and Turn Window - The AM Profiles Design-5 Tilt & Turn timber aluminium clad composite window system
The AM Profiles Design-5 UNI timber / aluminium composite window system
DESIGN-5 Window System - literature
DESIGN-5 Window System - test report
DESIGN-5 Window System - thermal analysis
DESIGN-5 FAQ
Did you know that to transport one average weight window from Norway to Britain via Sea and Road consumes approximately 106 MJ of energy. That is equivalent to carrying the same window a total of 4000Km by rail, or 1250Km by road.
How expensive is the Design 5 aluminium timber composite window?
With the majority of the window being timber, and with the aluminium on the sash effectively acting as the glazing bead (so eliminating a timber beading process) the window is not as expensive as it looks and feels. We are happy to provide budget prices at an early stage of the product. The true cost of the product is not the initial capital cost, life cycle costs need to be taken into account also. Studies have shown that the cost of Aluminium/Timber composite windows offers lower financial costs and a lower burden on the environment than other choices of material.
How can I purchase Design 5 aluminium timber composite windows?
If you are a joinery manufacturer you can either purchase the profile and we will assist you with the manufacture of the aluminium squares, or you can simply purchase the aluminium squares to bespoke sizes from us. If you are an architect, specifier, contractor or developer you can purchase the windows on a trade supply basis, glazed or unglazed, or fully fitted form AM Profiles or from one of the registered fabricators or installers.
What maintenance is required to Design 5 aluminium timber composite windows?
As the external surfaces are powder painted aluminium or anodised aluminium the external maintenance is minimal. This makes the future costs of the window very low. With expected life of around twice that of a PVC window the long term costs are good.
What is the general delviery time for fabricated aluminium timber composite windows?
As AM Profiles are based in the UK, not only are transport costs saved but delivery times for products can be around 9 weeks, depending upon the type of project and product chosen.
Can I purchase doors?
Yes we offer a full range of doors depending upon the application from aluminium timber composite doors to heavy duty aluminium products designed for main entrances, car showrooms etc.
What about curtain wall?
We also offer a full range of curtain wall systems from an engineered laminated timber structure with aluminium pressure plates and caps, a structural silicone glazed system, unitised curtain wall and an economical 46mm aluminium system.
What are the Green Credentials?
As aluminium is recyclable with only 7% of the original energy, FSC certified timber (meaning if 1 tree is cut down at least 2 are planted) and local transportation system the product is recyclable, and contains a minimum amount of embodied energy.