ISO 9001:2000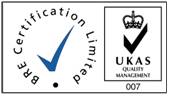 Assessed to ISO 9001: 2000
Certificate number 808
AM Profiles are also working towards the environmental standard ISO14001.
Excerpts from AM Profiles Quality Manual:
Scope
The design, manufacture and supply of aluminium and composite glazing systems and the design, manufacture, supply and installation of windows, doors or door kits and curtain walling produced from our systems.
This is the scope of our quality management system, the activity taking place at our facility on Hardwick View Road, Holmewood, Chesterfield.
Exclusions from ISO 9001
There are no exclusions from ISO 9001.
Quality Policy
Our objectives are to a) continue to grow as an innovative aluminium and timber / aluminium composite systems company and b) to continually develop our fabrication division to be one of the most efficient manufacturing facilities of sustainable, environmentally sound and thermally efficient aluminium and composite glazing products.
Providing our customers with products and service which we are constantly improving and developing will enable us to grow whilst investment in modern machinery and working practices will maintain our competitiveness.
It is our policy, therefore, to make sure we fully understand our customers' requirements. We then ensure, through the skills of our people and the use of our quality management system, that those requirements are met.
Our people are fundamental to our success and our policy is to continue to develop the competence, motivation and wellbeing of our whole workforce.
Our policy is supported by measurable objectives which are evaluated through our management review activity.